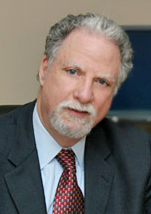 Eric M. Gross 
Bridgeport, Connecticut

Principal


phone

(203) 335-5141


fax

(203) 367-9964


email

Email Me

Mr. Gross is a founding member of the firm and was elected its president in 2003. An experienced civil litigator, Mr. Gross has, for more than thirty years, represented individuals and business organizations in all phases of civil litigation, including business litigation, disputes among members of closely-held entities, complex real estate litigation and numerous personal injury cases and disputed divorce matters. Mr. Gross has been selected, both privately and appointed by the court, to serve as an arbitrator in commercial and real estate disputes. He is an attorney state trial referee and a fact finder/arbitrator for the Judicial District of Fairfield. He recently obtained a judgment in excess of $1,600,000.00 in federal court in Connecticut in the matter of Hudson Pak Establishment vs. Shelter for the Homeless, Inc., et al , docket no. 91CV00468(AWT), which matter was recently affirmed by the United States Court of Appeals for the Second Circuit (docket no. 05-22112).
Mr. Gross is a member of numerous professional organizations including a sustaining membership in the Bridgeport Bar Association, the Connecticut Bar Association where he is member of the Commercial Law and Bankruptcy Section and Family Law Section and the Connecticut Trial Lawyers Association. For many years, Mr. Gross has believed in giving back to the community and is involved in civic affairs in lower Fairfield County including the vice-chairmanship of the Trumbull Ethics Commission where he continues to serve and has served since 2002. He is a past member of the Trumbull Town Council and served as a member of the United States Commission on Civil Rights. In addition, he is a past president of the Jewish Center for Community Services and also served as the president of the Probus Club of Greater Bridgeport.
Mr. Gross was born New York City but was raised in Fairfield, Connecticut and currently resides with his wife in Trumbull. He is a 1969 graduate of Middlebury College where he earned a B.A. in history and he received a J.D. degree from the University of Connecticut School of Law in 1972.
Connecticut, 1973
U.S. District Court District of Connecticut, 1975
U.S. Court of Appeals 2nd Circuit, 1975
U.S. Supreme Court, 2007
University of Connecticut School of Law, Hartford, Connecticut, 1972
J.D.



Middlebury College, 1969
B.A.



In re Kurtaj, 284 B.R. 528 (Bankr. D. Conn. 2002)
In re Taff, 10 B.R. 101 (Bankr. D. Conn. 1981)
Gould v. Rosenfeld, 178 Conn. 503
Reynolds v. Ramos, 188 Conn. 316, 449 A2d 182 (1982)
Judicial District of Fairfield, 1993 - Present
Attorney State Trial Referee/Fact Finder/Arbitrator



Bridgeport Bar Association
Sustaining Member



Connecticut Bar Association, 2003 - Present
Member, Commercial Law and Bankruptcy Section



Connecticut Bar Association
Member, Family Law Section



Connecticut Trial Lawyers Association
Member



Town of Trumbull Ethics Commission, 2003 - Present



Jewish Center for Community Services Board
Member, Past President



Probus Club of Greater Bridgeport
Past President